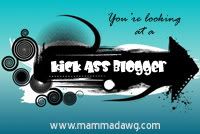 I am one of them, thanks to Maricris and Joy for giving me this award.  After days of comteplating who my kick ass blogger-awardees may be I have come to a unanimous decision to now present the lucky five.  I'm glad no one protested and no one seconded the motion obviously because the voting was done by myself and no other.  But first here are the rules:
Do you know any bloggers that kick ass? Maybe they've got incredible, original content. Or they're overflowing with creativity. Is it someone that helps you become a better blogger? Or a bloggy friend you know you can count on? Or maybe it's someone who simply inspires you to be a better person… or someone else who sends you to the floor, laughing your ass off. Whatever the reason may be, I'm sure you know at least a couple of bloggers that kick ass. Well… why not tell 'em so?
LOVE ON 'EM
Choose 5 bloggers that you feel are "Kick Ass Bloggers"
Let 'em know in your post or via email, twitter or blog comments that they've received an award . Share the love and link back to both the person who awarded you and back to www.mammadawg.com . Hop on back to the Kick Ass Blogger Club HQ to sign Mr. Linky then pass it on!
And here are the kick ass bloggers as far as my blogging expertise is concerned, lol!
Amor
Because your personal site is always a personal site. You blog not for money but for something that you want to share to other bloggers. Your creativity is simple and inspiring. I can't believe our online acquaintance has come this far. Three years, maybe?
Nick
Because you and your long winding posts sometimes or most of the time send me to the floor, laughing my ass off. And your answers to comments are as funny as your posts. Of course, sometimes you write serious content in a seriously comical way, lol!
Farah
Because your blog is original, from contents to widgets. Your blog shows how proud you are as a mother of the apples of your eyes and for sure, proud as a wife of the apple of your eye as well. Your colorful blog is a source of inspiration for personal blogging.
Bojoy
Because you are my townmate, hahaha! Actually, I find you very sweet. As sweet as the color of your blog. And you're so in love with your hubby and son. Aminin!
Eds
Because you are thoughtful. You always include me as your recipient of tags and awards. I like how you have improved from one blog to many blogs. Your digiscrap shows your being creative.
There you are, my kick ass bloggers. And Maricris, you may as well get to know them, but I'm afraid they're not all Filipinos. To all of the above, including Joy, meet Maricris and her ventures. She is hungry for online friends and she is happy to eat, er, meet you all. 🙂